FREE SHIPPING AS FROM 128 EUROS
CHILLI CRAB FLAVOURED LAMIAN
A signature Singaporean dish that is known worldwide for its gastronomic blend of sweet, spicy and tangy flavours, juxtaposed against an umami-rich base of seafood and egg. Experience Singapore with every bite!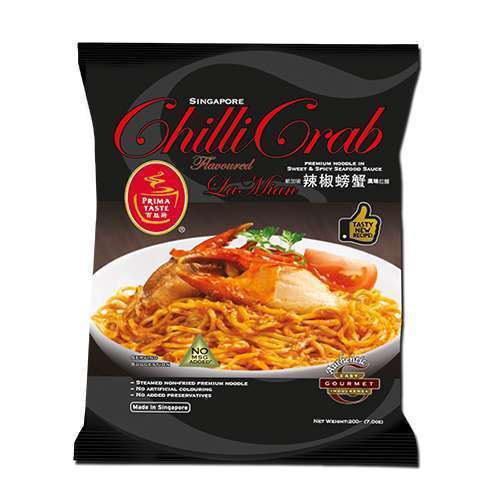 1 pc

Noodle/LaMian

2 pkt

Chilli Crab Flavoured Sauce

500 ml

Water
1. Prepare 2 pots. Fill first pot with 500 ml of water for cooking noodles. Fill second pot with water for heating up unopened packets of Chilli Crab Flavoured Sauce. Bring both pots of water to boil.
2. Add noodles into first pot and boil for 6 mins. At the same time, add 2 unopened packets of Chilli Crab Flavoured Sauce into second pot and leave to boil till noodles are cooked.
3. Mix Chilli Crab Flavoured Sauce with 3 tablespoons of noodle water in a bowl. Then, remove only noodles from pot and add to bowl. Mix well. Chilli Crab Flavoured LaMian is ready to serve.
For a more indulgent meal, at Step 2, you may add uncooked fresh seafood to the first pot at the 5th min.
CHILLI CRAB FLAVOURED LAMIAN WITH SEAFOOD
CHILLI CRAB FLAVOURED LAMIAN WITH CLAMS