FREE SHIPPING AS FROM 128 EUROS
An irresistible tangy sweet-sour tamarind flavoured paste for a deliciously spicy and fragrant fried vermicelli dish. Stir-fried with an assortment of garnishes, it is a twist to the authentic Singaporean dish "Mee Siam" that will tempt you with its fragrant aroma.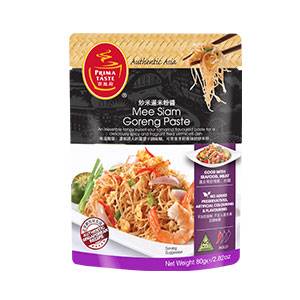 Prima Taste Mee Siam Goreng (Standard)

 

1 pkt

AA Mee Siam Goreng Paste

½ cup

Water (for cooking)

¾ tbsp

Water

¾ tbsp

Cooking oil (for frying vermicelli)

1 ¼ tbsp

Cooking oil (for frying ingredients)

90 g

Rice vermicelli (soaked)

30 g

Onion

5 g

Garlic

2 nos.

Eggs

20 g

Chinese chives

25 g

Bean sprouts

3 nos.

Prawns

As desired

Small hot chilli (Optional)

As desired

Sambal Chilli

As desired

Lime
1. To prepare the rice vermicelli, soak in water for 15 mins.
2. Add ¾ tbsp of cooking oil, Prima Taste pack and ½ cup water into a wok or frying pan.
3. Mix well and bring to boil.
4. Mix in soaked rice vermicelli.
5. Use chopsticks to stir-fry till gravy is completely absorbed.
6. Loosen rice vermicelli and set aside to cool.
7. Heat 1 ¼ tbsp of cooking oil on medium heat.
8. Add onion and garlic, and stir-fry till fragrant.
9. Add eggs and stir-fry till slightly cooked.
10. Add fried rice vermicelli, stir-fry for approx.10 secs or till fragrant.
11. Add chinese chives, bean sprouts, small hot chilli (optional) and prawns.
12. Stir-fry for approx.1 min till fragrant.
13. Pour ¾ tbsp water around the edge of the wok or frying pan and stir-fry for approx. 5 secs.
14. We recommend serving the dish with Prima Taste Sambal Chilli.
15. Mee Siam Goreng is ready to serve.