FREE SHIPPING AS FROM 128 EUROS
Craving for a dish that gives you the extra kick? How about baking garoupa fillets with Nonya Sambal sauce – made with a blend of shrimp, chilli, tomato paste and mixed spices. You'll be surprised at how easy it is to make this dish at home!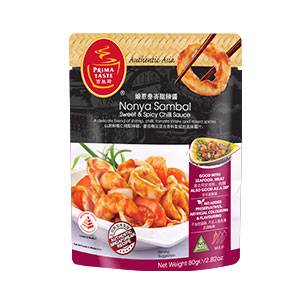 1 packet

Prima Taste Nonya Sambal

2 tsp (10g)

Vegetable oil

180g (cut into 3 pcs)

Red Garoupa Fillet, cut 2cm thick

 

*You may also use any white fish fillet or any seafood

3g

Garlic, chopped

10g

Lemongrass, cut 4cm length

3g

Coriander, roughly chopped

10g

White onion, diced

15g

Long bean, cut 3cm length

30g

Eggplant, cut 3cm length

30g

Tomato, chunks

12g

Assam water
1. Heat up a pan on medium heat with oil. Pan fry both side of the fish fillet till golden brown.
2. Place it on an aluminium foil.
3. Using the same pan on medium heat with remaining oil. Add in garlic, lemongrass and onion. Stir-fry for 10 secs.
4. Add coriander, long beans, eggplant and stir-fry for 10 secs.
5. Add Prima Taste Nonya Sambal, tomato and assam water. Bring to boil.
6. Pour the sauce on the fillet, wrap up and bake for 10mins at 180°C.
*Note: Please preheat the oven before cooking
7. Nonya Sambal Baked Fish is ready to be served.