FREE SHIPPING AS FROM 128 EUROS
A special blend of dried shrimp, chilli and mixed spices for a deliciously spicy and fragrant stir-fried vegetable dish.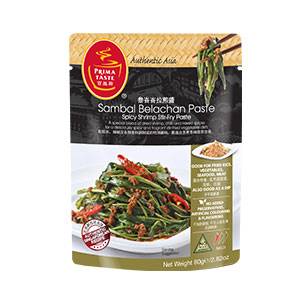 1 tsp

Cooking oil

10 g

Garlic, chopped

1 no

Chilli padi, chopped

1 pack

Prima Taste Sambal Belachan Paste

180 g

Kangkong (water spinach)

1 – 2 tbsp

Water
1. Pluck kangkong leaves together with the stems.
2. Heat 1 tsp of cooking oil in wok on medium heat.
3. Add garlic, chilli padi and Prima Taste pack, Stir-fry for 3 secs.
4. Add 180g of kangkong and 1 – 2 tbsp of water, Stir-fry for 5 secs.
5. Add another 1 – 2 tbsp of water, stir-fry for 10 secs or till desired texture (avoid overcooking the kangkong)
Tips: Stir-fry the kangkong by flipping in the wok till the kangkong is cooked.
Stir-fried Sambal Kangkong is ready to serve.