FREE SHIPPING AS FROM 128 EUROS
SWEET & SPICY SEAFOOD SAUCE
Beancurd and prawns cooked in a piquant tomato base loaded with fresh chilli, garlic andother spices.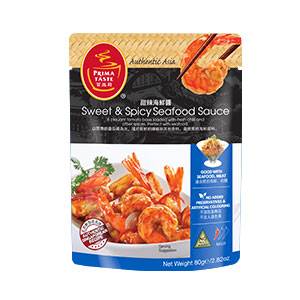 SWEET & SPICY SEAFOOD SAUCE
Prima Taste Sweet and Spicy Beancurd Prawns (Standard)

 

1 pack

Prima Taste Sweet and Spicy Seafood Sauce

2½ tbsp

Water

1 ½ tbsp

Vegetable oil

110 g

Sliced egg beancurd (tofu)

80 g

Prawns (butterfly cut)

1 tsp

Potato starch (mixed with 2 tsp water)

½ no

Egg

15 g

Onion

15 g

Tomato

As desired

Coriander

As desired

Garlic

As desired

Spring Onion
1. Deep-fry 110 g of sliced egg beancurd (tofu) till golden brown.
2. Chef's Tip (Depict by chef hat): For the first 30 minutes, do not stir to prevent breakage.
3. Pour away oil.
4. Set aside egg beancurd.
5. Stir-fry onion in 1½ tbsp vegetable oil on medium high heat.
6. Add 80 g of prawn (butterfly cut) and stir-fry till half cooked.
7. Add 2½ tbsp water, Prima Taste pack and deep-fried egg bean curd. Mix well.
8. Add 1 tsp potato starch (mixed with 2 tsp water) and mix well.
9. Add egg and stir-fry till gravy thickens.
10. Add spring onion, tomato and coriander for a tastier dish.
11. Sweet & Spicy beancurd prawns is ready to serve.