We're creatures of joy — monsters of our own making.
We love our snacks as much as we love doing the things we do with our family, friends and loved ones.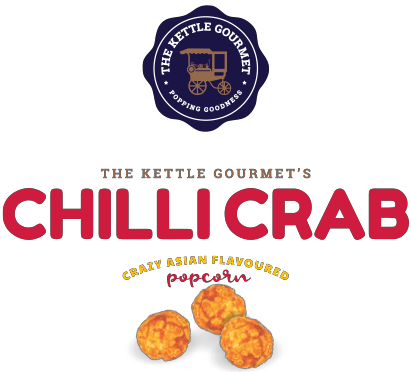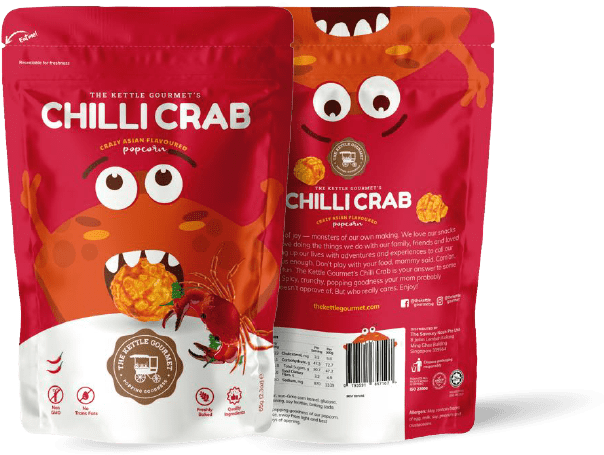 The king of all crab dishes. Chilli Crab is among Singapore's well-known culinary inventions. Loved by Singaporeans, our Chilli Crabsecret is in the 'sauce' – a tangy flavour combined with the succulent flesh of the stir-fried crab.
The Kettle Gourmet's Chilli Crab is your answer to some crazy and 'kan cheong' fun. Spicy, crunchy, popping goodness your mom probably doesn't approve of. But who really cares.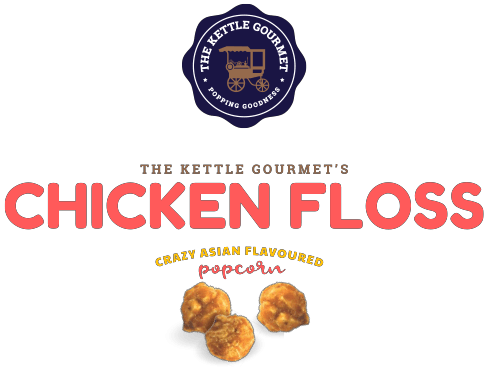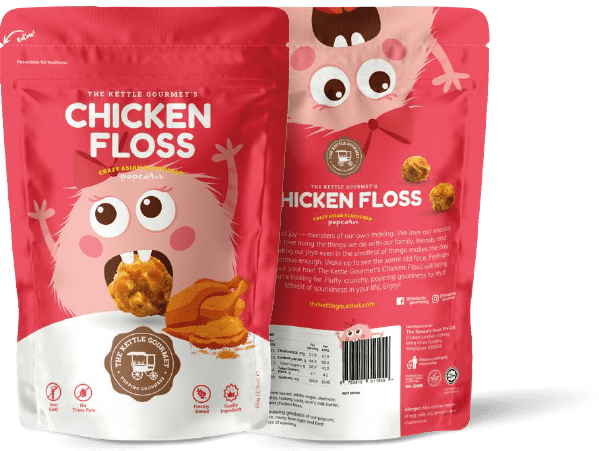 Loved by Singaporeans, our crispy Chicken Floss snack is baked until golden brown. The alluring flavour profile will linger on your taste bud and leave you wanting for more!
The Kettle Gourmet's Chicken Floss will bring about the change you need to perk you up. It's not about being fussy but knowing what you want. Fluffy and crunchy popping goodness to live your life with a little spunk and attitude.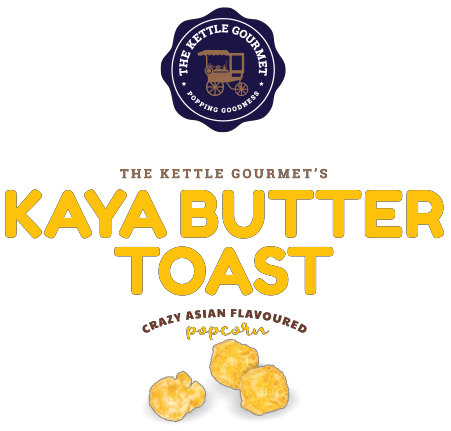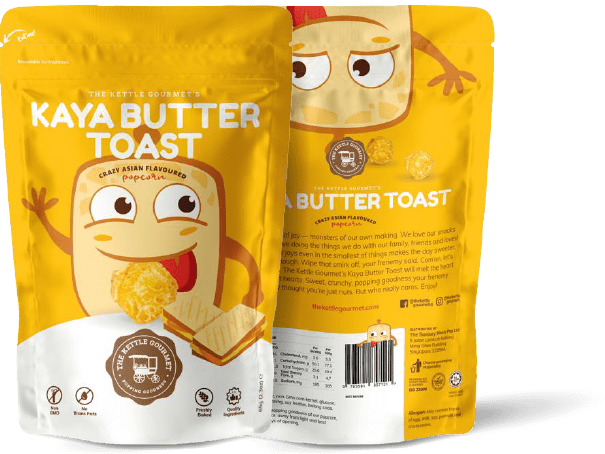 One of Singapore's breakfast favorite, Kaya Butter Toast is a simple snack of toasted slices of bread sandwiching silky smooth butter and a rich spread of sweet creamy kaya, a traditional jam made of coconut and eggs.
The Kettle Gourmet's Kaya Butter Toast will melt the heart of the hardest hearts. Sweet, crunchy, popping goodness your frenemy probably thought you're just nuts. But who really cares.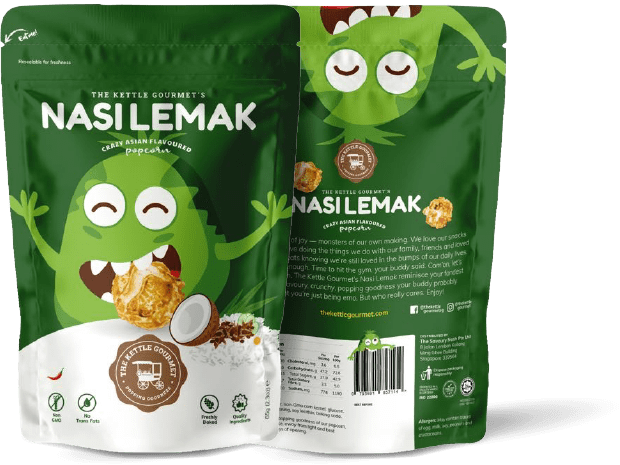 Having its roots in the Malay cuisine, Nasi Lemak is a creamy, coconut-milk-infused rice dish with an aromatic pandan smell that is traditionally served with fried ikan bilis, peanuts, eggs, cucumber slices, and sambal (spicy chili paste).
The Kettle Gourmet's Nasi Lemak reminisce your fondest memories. Savoury, crunchy, popping goodness your buddy probably thought you're just being emo. But who really cares.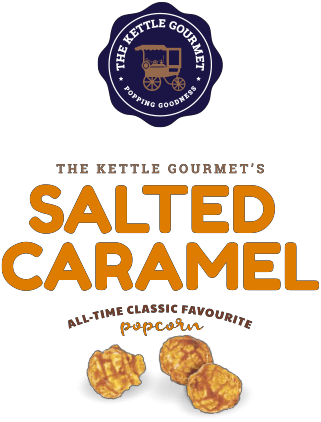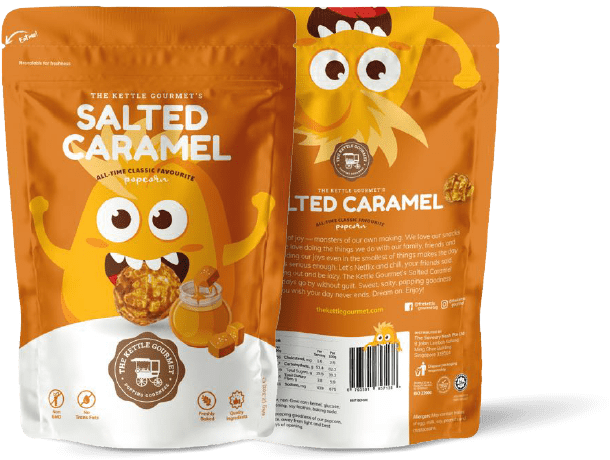 Sweet oh sweet caramel. Caramel and savoury salt come together in perfect harmony creating a delicacy that is bound to satisfy you!
The Kettle Gourmet's Salted Caramel will let your days go by without guilt. Sweet, salty, popping goodness you wish your day never ends. Dream on.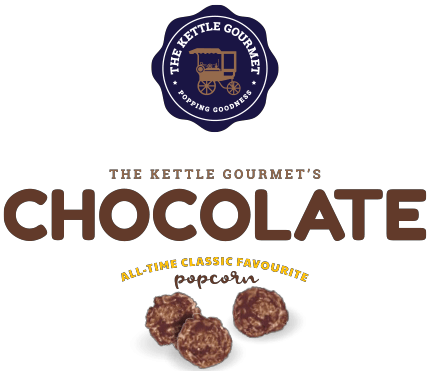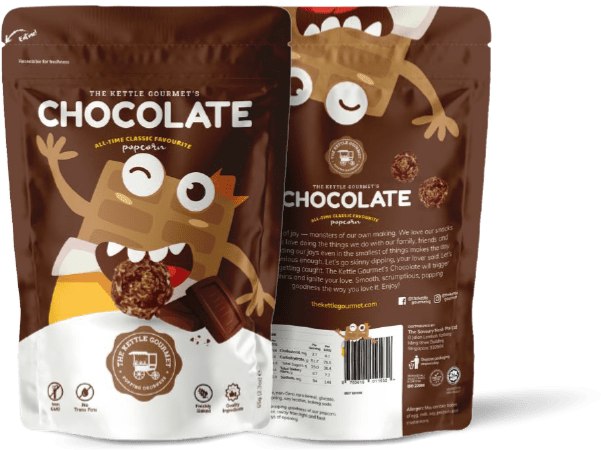 Coated in chocolate glaze, these chocolate popcorns are designed for chocolate lovers like you, for a whole new popcorn experience. Enjoy its chocolaty taste in every bite!
The Kettle Gourmet's Chocolate will trigger your endorphins and ignite your love – an unavoidable endeavour. Smooth, scrumptious, popping goodness the way you love it.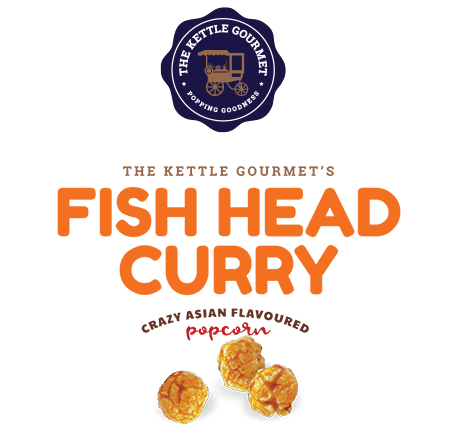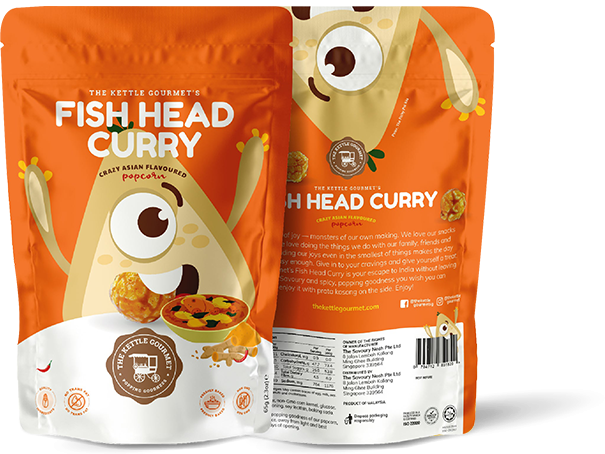 A Singapore signature
delicacy, the Fish Head Curry
is both bold and distinctive.
Braised in rich coconut milk and flavoured by aromatic curry spices, the fish head is often devoured heartily, savoring the sourish, salty and spicy dish mouthful by mouthful.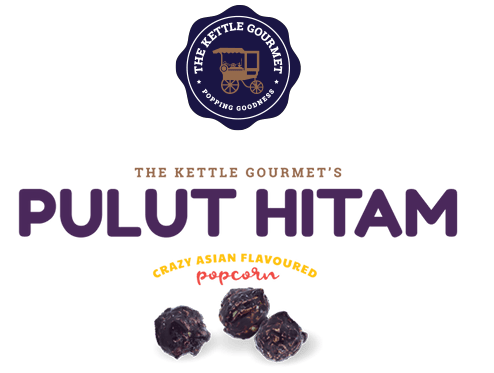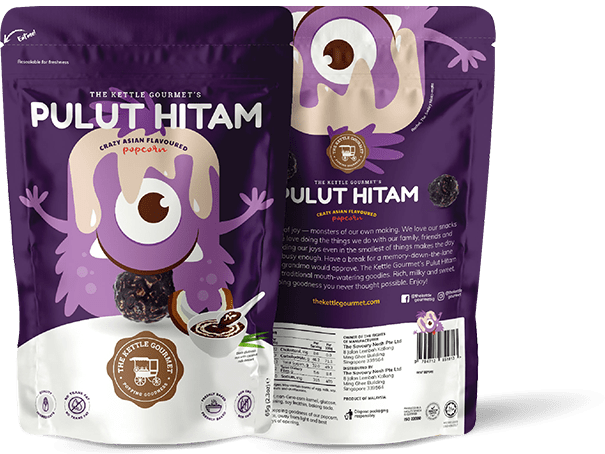 The purplish black Pulut Hitam is a delightful dessert that readily captures the hearts of Singaporeans.
Deliciously thick, sweet and gooey, the blending of both glutinous flavour and coconut cream naturally evokes nostalgic feelings of warmth and comfort.

"THIS IS ONE OF THE NICEST POPCORN I HAVE EVER EATEN. HIGHLY RECOMMENDED"
"I USUALLY HATE POPCORN BUT KETTLE GOURMET WAS REALLY AN EYE OPENER. HIGHLY
RECOMMENDED FOR ALL EVENTS MAN... NETFLIX TO WEDDINGS. CAN'T SAY NO TO THIS!!
AND THE STAFFS WERE SO PROFESSIONAL AND SWEET AS WELL!"
"HIGHLY RECOMMEND, IT'S TOTALLY WORTH TRYING AND GREAT EFFORT FOR THE
INNOVATIVE LOCALISED FLAVOURS! STAFF WERE EXTREMELY FRIENDLY TOO! OVERALL
A GREAT EXPERIENCE 😁"
"POPCORN WITH VARIOUS LOCAL FLAVORS. DELICIOUS AND EXCELLENT PACKAGING. GOOD
FOR GIFTS TOO."
"TASTE 5/5
BETTER THAN ANY OTHER GOURMET POPCORN I'VE EVER TRIED. WOULD RECOMMEND 10/10."
Yes we are!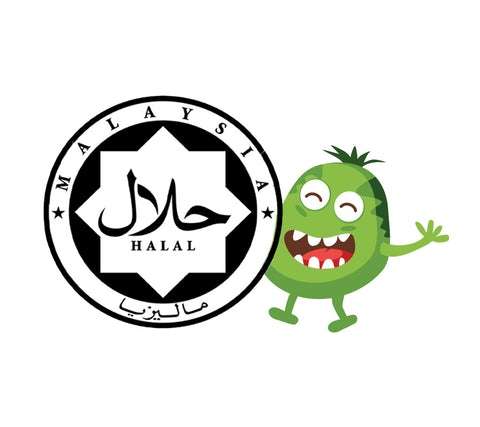 1 year! Store in a cool, dry place away from light and best consumed within 3 days of opening.
View Our Full
Kettle Gourment Collection