FRAGRANT HAINANESE CHICKEN RICE
An aromatic chicken stock sauce for cooking fragrant Hainanese Chicken Rice. Perfect complement with meat, vegetable or seafood dishes.
(Serves 1-2)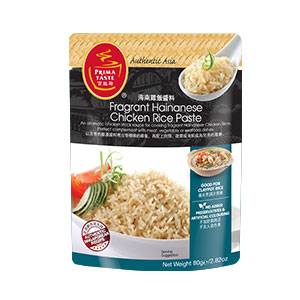 FRAGRANT HAINANESE CHICKEN RICE
200g (1 ¼ rice cups)

Rice

1 pack

Prima Taste Fragrant Hainanese Chicken Rice Paste

260 ml

Water
1. Wash 200g (1 ¼ rice cups) of rice once and drain well.
2. Pour rice and Prima Taste pack into the rice cooker and mix well.
3. Add water to the level indicated on the scale inside the rice cooker for the number of cups of rice used. (You may adjust the water for different types of rice at your own preference)
4. Stir well.
5. When rice is cooked, let it rest at 'Keep Warm' setting for 15-20mins.
6. Fluff rice and serve.