Snackbox: Sichuan Mala 麻辣 HotPot
₨1,800.00
It's time to turn up the heat in this ensemble. Spicy, numbing, and fragrant, with three favourite hotpot ingredients in one pack!
Our signature fish skin crisps set you off on a fiery journey, while the sneaky sweetness from our trio of mushrooms gives you a moment of calm respite. But. Only. Just. What's this? the familiar beancurd skin you thought you knew? Hang on tight as it throws you a new tempting dare.
This mind-numbing medley bids you "come try". It's a Mala 麻辣 party and you're invited!
Flavour notes:
Complex and fragrant – with 17 herbs and spices
Spicy and numbing – red and green peppercorns
Smoky, from the roasted fish skin
Sweet, from the mushroom trio
Crisp and airy, from the crispy beancurd skin
Quantity: 5x 105g
Wishlist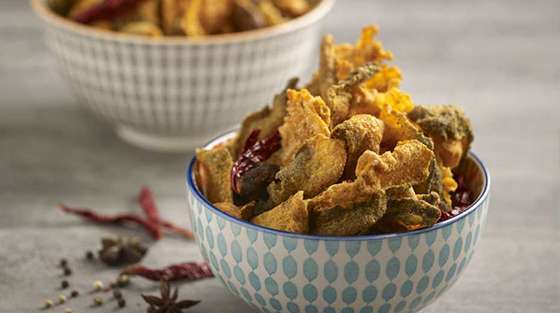 THE MIND-NUMBING MEDLEY FROM SICHUAN. Taking inspiration from the heatwave of Mala 麻辣 frenzy that flowed from Sichuan down through Southeast Asia, we wanted to create a snack that would challenge how Mala 麻辣 snacks were perceived. Picking common ingredients found in Mala 麻辣 hotpots, and 'xiang-guo's (literally translated : 'fragrant wok'), we curated an ensemble involving our signature fish skin crisps, fluffy tofu (or beancurd) skin, and three types of mushrooms — shiitake, oyster and shimeji. Mmm.. Settle for less? nah.