PRAWN SOUP WHOLEGRAIN LAMIAN
Do you know that one serving of Wholegrain LaMian is equivalent to your daily intake of wholegrain?* Prawn Soup Wholegrain LaMian features non-fried premium wholegrain noodle made with 51% superfine wholegrain flour, offering a whole host of nutritional benefits! Boosting a rich and flavourful aromatic prawn broth, Prawn Soup Wholegrain LaMian is the perfect comfort food for a stay home rainy day. *Based on adult daily requirement of 50g wholegrain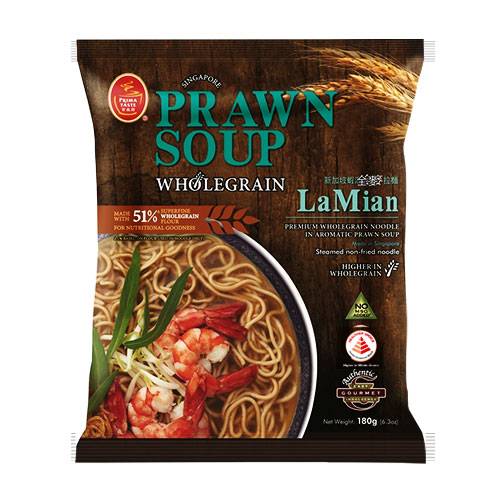 PRAWN SOUP WHOLEGRAIN LAMIAN
1 pc

Noodles/LaMian

2 pkts

Prawn Soup Stock

500 ml

Water
1. Put wholegrain noodles into 500 ml of water and boil for 5 mins.

Important: Do not lower heat. Keep water boiling throughout.
2. Add in both packets of Prawn Soup Stock and boil for another 2 mins. Stir well.
3. Prawn Soup Wholegrain LaMian is ready to serve.

For a more indulgent meal, at Step 2, you may add prawns and chicken slices at the 51/2 min, and kangkong (water spinach) and bean sprouts at the 61/2 min.