Stir-fried beef with Prima Taste's Premium Black Pepper Sauce created with the finest selection of black pepper and spices.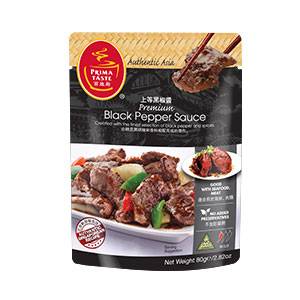 Prima Taste Black Pepper Beef (Standard)

 

1 pack

Prima Taste Premium Black Pepper Sauce

3 tbsp

Water

2½ tbsp

Vegetable oil

275 g

Sliced beef

5 g

Cornstarch

12 g

Young ginger, sliced into julienne

28 g

Spring onion, sliced into tubes

28 g

Red Capsicum, sliced into julienne
1. Mix 275 g of sliced beef with cornstarch and stir-fry in 2½ tbsp vegetable oil on medium heat till almost cooked. Set aside.
2. Add 3 tbsp water and Prima Taste pack.
3. Mix well.
4. Add beef and stir-fry on high heat.
5. Add young ginger, spring onion and mix well.
6. Garnish with red capsicum.
7. Black Pepper Beef is ready to serve.