Snackbox: TWO Flavours
₨1,800.00
Can't decide on one flavour? Why not have two!

Get saucy and select your flavour options below!
What you're getting:
Five individual packs – 3 of one flavour, 2 of another
Premium TGD Snackbox
Surprise snacking essentials!
Good vibes from sunny Singapore
Quantity: 5x 105g
Wishlist
Salted egg yolk fish skin crisps
A MASTERCLASS IN BALANCE. A unique carrier like fish skin? With the intense flavours of salted-egg yolk? Our success lies in achieving balance. Every element intentionally curated, measured and added in just the right amounts to achieve the perfect layering of tastes. The result? — Pleasure from crunch to finish.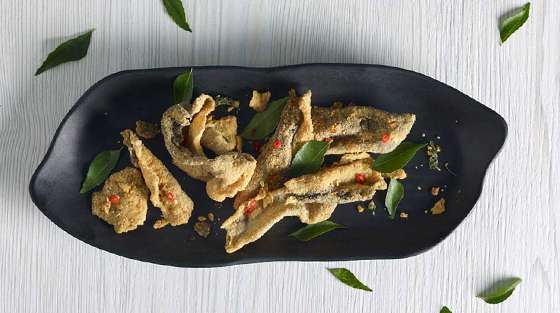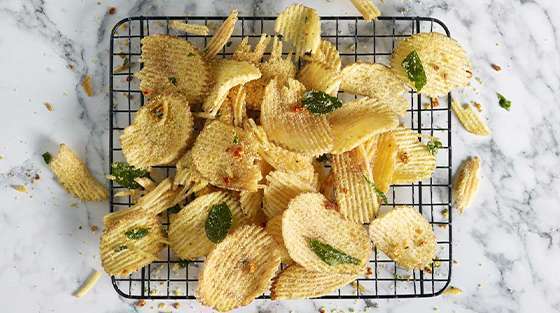 Salted egg yolk potato ridges
A BEAUTIFUL MESS. Oh where do we begin with our salted-egg yolk potato ridges? Ah, with the ridges of course — the rise and fall of each groove making little valleys for our gourmet salted-egg yolk mix to nestle and hide, loading each chip with 100x more flavour (a yummy anecdotal) than regular Joe potato chips. Pour them out; relish the initial aroma of creamy salted-eggs and fragrant curry leaves; take pictures of your beautiful mess, and fall in love with your new favourite snack. Repeat.
Salted-egg crab seaweed tempura
A SEA OF UMAMI. It was a reckless feat, we have to admit — trying to create a snack using such complex ingredients and components. The sweetness of real crab meat; the bold umami of salted-eggs; the fragrant spice of chili and curry leaves, all brought together on tempura-coated squares of seaweed — oh boy, what could go wrong? Thankfully nothing. Taste wave after wave of umami magic in is perfectly balanced snack-hit.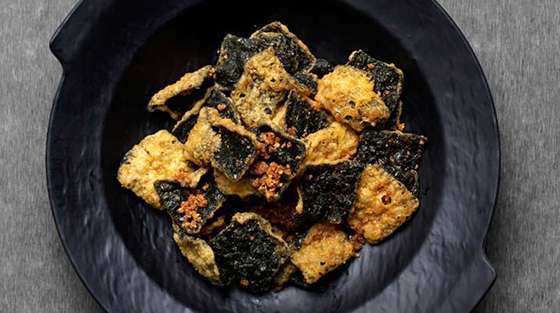 Salted Chilli Crab Seaweed Tempura
SINGAPORE'S ICONIC NATIONAL DISH. Chilli Crab, and Chicken Rice — two dishes that are most commonly associated with Singapore as a food nation, so much so that food wars have sparked between surrounding countries, debating who has the best versions and variations. A "must have" for visitors transiting through Singapore, and also for locals celebrating a special occasion, Singapore's Chili Crab is as good as it gets when it comes to encapsulating a taste of the sunny island nation — tangy, salty, mildly spicy, and creamy, with many beautiful layers of flavour forming this unbelievably complex dish. We've packaged all of that into a snack, befitting of this national treasure. And yes, of course it contains real crab meat.
Bangkok tom yum goong gourmet mix
A TASTE OF THE VIBRANT ENERGETIC CITY OF BANGKOK. The Golden Duck's Tom Yum Goong Gourmet Mix was created in collaboration with the inspiration and genius behind Blue Elephant, Chef Nooror. Along with all the snackers around the world. Featuring three new exciting ingredients – Lotus Root Crisps, Shrimp Chins and Oyster Mushrooms. We've also added there a spice booster pack for you to customise your spice level as you wish. Together with Blue Elephant Royal Thai Cuisine, we're bringing the land of smiles to you!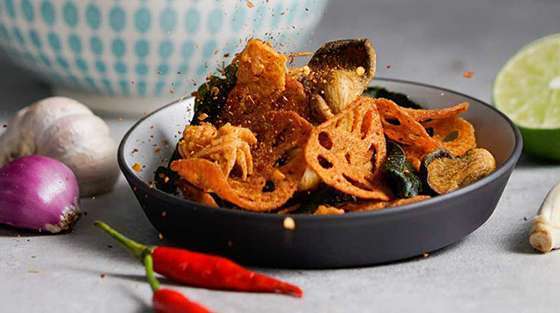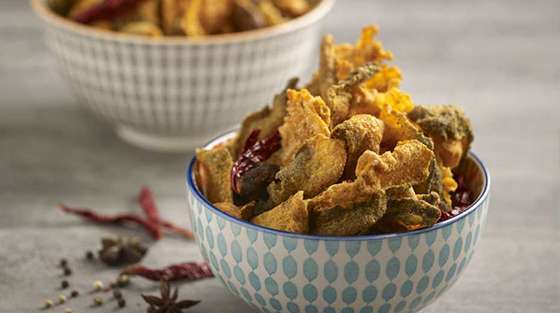 THE MIND-NUMBING MEDLEY FROM SICHUAN. Taking inspiration from the heatwave of Mala 麻辣 frenzy that flowed from Sichuan down through Southeast Asia, we wanted to create a snack that would challenge how Mala 麻辣 snacks were perceived. Picking common ingredients found in Mala 麻辣 hotpots, and 'xiang-guo's (literally translated : 'fragrant wok'), we curated an ensemble involving our signature fish skin crisps, fluffy tofu (or beancurd) skin, and three types of mushrooms — shiitake, oyster and shimeji. Mmm.. Settle for less? nah.