A tantalising blend of chilli, shrimp paste and other spices to help you whip up a spicy full-bodied dish.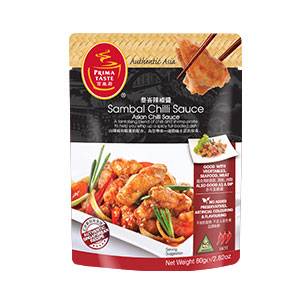 140 g

Chicken, cut into cubes

30 g

Onion, diced (optional)

30 g

Vegetable oil

30 g

Tomato, cut into chunks (optional)

3 1/2 tbsp

Water

1 pack

Prima Taste Sambal Chilli

20 g

Spring onion, sliced approx. 4 cm (optional)
1. Stir-fry 140 g chicken cubes in 30 g vegetable oil till golden brown and almost cooked.
2. Remove chicken and set aside.
3. Using the same pan or wok, fry onion till fragrant.vvvvvv
4. Then add tomato and stir-fry for 10 secs.
5. Add stir-fried chicken, spring onion, 3 1/2 tbsp, water and Prima Taste pack.
6. Stir-fry till sauce is slightly dry and chicken is cooked.
7. Sambal Chilli Chicken is ready to serve.