Snackbox: Chilli Crab Seaweed Tempura
₨1,800.00
Tightrope walking. Pole dancing. Perfecting a chilli crab recipe.
It's all a question of balance – between the sweetness of crab meat, the warm spiciness of the chilli, and the smokiness of roast seaweed.
Crunch through the crisp tempura coating and an incredible mix of flavour explodes on your tongue. Phenomenal.
Flavour notes:
Sweet, salty, mildly spicy – like a girl you once knew
Underlying notes of the sea – real crab meat!
Roasted seaweed
Mellow tomato base notes
Quantity: 5x 105g
Wishlist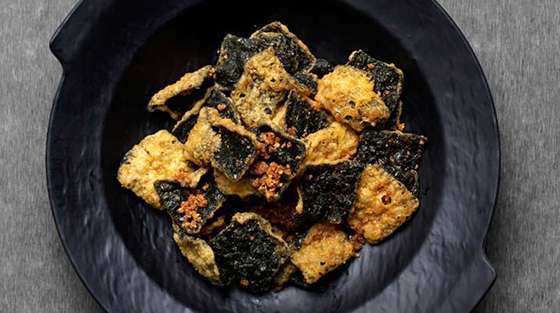 Salted Chilli Crab Seaweed Tempura
SINGAPORE'S ICONIC NATIONAL DISH. Chilli Crab, and Chicken Rice — two dishes that are most commonly associated with Singapore as a food nation, so much so that food wars have sparked between surrounding countries, debating who has the best versions and variations. A "must have" for visitors transiting through Singapore, and also for locals celebrating a special occasion, Singapore's Chili Crab is as good as it gets when it comes to encapsulating a taste of the sunny island nation — tangy, salty, mildly spicy, and creamy, with many beautiful layers of flavour forming this unbelievably complex dish. We've packaged all of that into a snack, befitting of this national treasure. And yes, of course it contains real crab meat.